In First Kids we want to provide a place for your child to experience Jesus. We partner with parents to help your kids become fully devoted followers of Jesus.
First Kids is created with you and your kids in mind. We build exciting, creative, and fun experiences each week. In our time together, we bring memorable and applicable Bible teaching that's age-appropriate, helping each child learn more about Jesus.
Preschool | Birth through 5yrs/K
Our team creates a loving, nurturing environment where little ones learn that God made them, God loves them, and Jesus wants to be their friend forever! Outside our weekly services, our preschool ministry team partners with you by providing resources for raising your children to be fully devoted followers of Jesus.
Birth to 17 Months: We love your kids and keep them engaged while you attend one of our services.
18 Months-2 Years: We teach your children God's Word with fun, engaging lessons designed for this exciting age.
3-5 Years: Once your child turns three, they also go to a large group session where they sing, dance, and watch videos or skits that reiterate each week's Bible Story and each month's Memory Verse.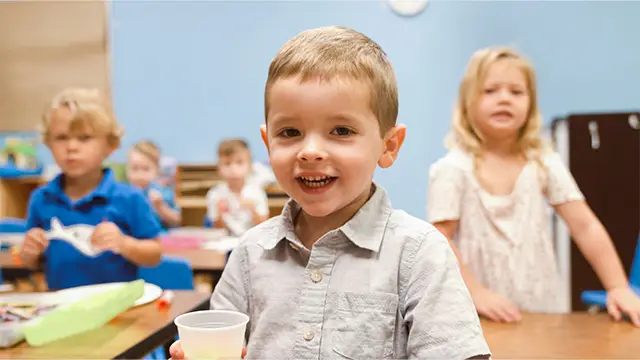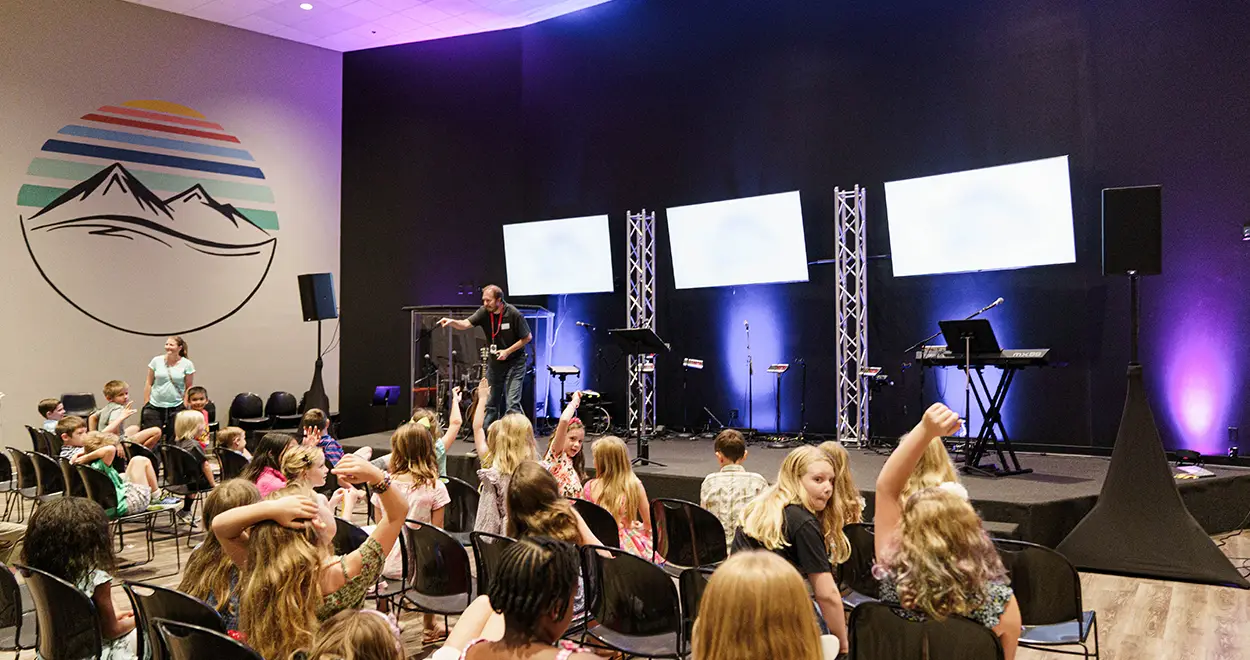 Elementary | 1st-5th
Each week the kids will enjoy a multimedia learning experience as they dive into God's Bible truths through live Bible teaching, fun videos, live worship music, games, small groups, and other activities designed to help them understand and apply God's Word.
What We Do
We start off each Sunday service hanging out in small groups by grade level. Kids (1st-3rd) and preteens (4th-5th) who stay for both services will get two different experiences – worship and small groups. Each week we provide a large group, age-appropriate worship time with biblical teaching, relevant videos, and fun games. During small group time we dig deeper and learn how to engage the Bible and how to apply it to our lives. All activities are led by our incredible team of background-checked volunteer leaders who escort the children to their worship times and back to the small group rooms where parents come to pick up their kids, and just like that, we pass the baton back to you. Go parents!
How We Teach
We walk through the Bible chronologically with the kids, changing series titles and themes every four to six weeks. Each week we look at a different Bible story to show how Jesus can change a kids life forever.
Sundays
9:00am & 10:45am
An exciting experience with specifically designed small groups and kid's worship times based on your child's age group.
Wednesdays
6:30pm – 7:30pm
A high energy program teaching kids life applications through Bible stories, missions activities, games and more!
Frequently Asked Questions (FAQ's)
How does Check-In and Pick Up work?
If you're new, look for one of our First Time Guest tables located at the either main entrance so that one of our First Impressions team can help you and your child check in and get you where you need to be. After your first visit, you will use one of our self check-in areas located at both first Kids entrances on the main level. At check-in, you will receive a name tag for your child a parent pick-up tag for you to keep. Those tags both have identical codes on them that is unique to your family that day. After service, you will return to your child's area and show that your tag's code matches your child's name tag in order for your child to be released back to you. If we need to contact you during the service, we will send a message to the number we have in our system.
What Safety Measures Do You Have in Place?
Your child's safety is a top priority to us. As mentioned in our check in procedures, when you check in your child, you receive a name tag for your child and a pick-up tag for you. Both tags have matching identification codes. We also have current background checks on file for all of our volunteer team members, and we have a trained security team that monitors our first Kids area.
Do you have a special needs program?
Yes! We have a special needs program called Unlimited. Please contact the children's ministry director to receive more information on this vital program.
We think church should be fun at any age! In each setting, we use media, technology, fun activities, small groups and skilled volunteers so children can experience for themselves who God is, how He sees them and how much He loves them.
What will my kid's small group look like?
We value children's relationships within the small group setting as they relate to their leader and other kids in the group. As families commit to attending the same service each week, kids are placed in a group of familiar faces where relationships can grow.